Guardian™ Compact Clearing Trap
$125.00
Quick Overview
SKU #TP5095
Specifications:
Weight:

13 lbs.

Dimensions:

11.5" x 4" x 4.5"

Composition:

Consists of AR500 steel and Dura-Bloc Ballistic Rubber
Details
The Guardian™ Compact Clearing Trap is an ideal safety measure for law enforcement agencies, commercial ranges, gunsmiths, and shooters everywhere. The hazards of a negligent discharge are real and dangerous, so safely clearing a firearm is crucial when handling weapons.
The steel housing is ¼ inch AR500 steel with a Dura-Bloc™ ballistic rubber interior for capturing the round. A soft poly cap allows weapon insertion without scratching the barrel and predrilled "Teardrop" holes are provided for securely mounting the Guardian Compact Clearing Trap. Equipping patrol vehicles with a Guardian Compact Clearing Trap provides law enforcement personnel a method to safely check their firearm or confiscated weapons before handling or transporting.
Highlights:


¼ inch AR500 steel on all sides of the housing


Dura-Bloc ballistic rubber interior


Lightweight and portable


Tear drop mounting holes


Can be mounted virtually anywhere


Designed to contain standard handgun rounds up to .44 Magnum


Soft poly cap insertion covering prevents barrel scratching


Finished with a hammered grey powder coat paint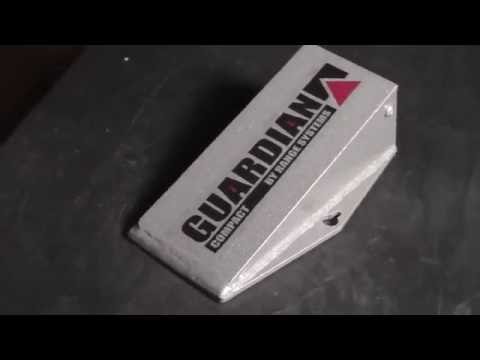 Guardian Compact Clearing Trap