MotoShot™ Elite 360­° Target System
Quick Overview
SKU #40-50-132
MotoShot Elite 360° Target System includes:

Digital 2.4 gHz remote with up to 1000 meter line of sight range and variable speed forward and reverse
Four 24 volt all steel, prime industrial grade, heavy-duty motors. Whisper quiet and super-durable. Self-lubricating gear box with sealed bearings.
10" commercial grade, solid core, run flat tires. Mounted under protective ballistic shell, shielded from errant rounds.
2; 12 volt Quick Exchange Rechargeable Battery Packs
2 Amp, 24 volt Quick Connect Battery Charger
Dimensions: 10.75" height x 23.5" width x 26" length
Gross Weight including on-board batteries: 99 lbs.


*3D Target sold separately HERE

SEE VIDEO BELOW
Details
MotoShot™ Elite 360° has an all
new formed steel, protective trapezoid design chassis. All chassis
sides are angled 10° which helps divert errant rounds safely to the
ground. Additionally, to build strength and durability, MotoShot uses
this formed steel chassis to fully enclose and protect all components,
including the rugged 10" solid core wheels.
The MotoShot Elite 360° AWD Moving Target System incorporates
incredible, lifelike movements such as running, charging, 360° turning
with the realism of a hit reactive 3D Target System. Use MotoShot
Moving Target System to create dynamic movements and scenarios.
MotoShot is an excellent training tool for all types of hostage
simulation and decision making drills.
MotoShot Target Systems are
custom built to your specifications and can include many options such
as:


Hit Reactive Response – When the target is shot with
live-fire or less lethal rounds the system "reacts" by either stopping
the robot or stopping and collapsing the target. This feature may be
bypassed, as needed.




Programmable Remote - 3rd channel for manual drop of Fall
Bracket or Threat Management Trainer.




Additional target brackets for fixed position paper targets
.


Double sided Turning Targets.




MotoTRAX Track System with oscillator for timed, repeatable
courses.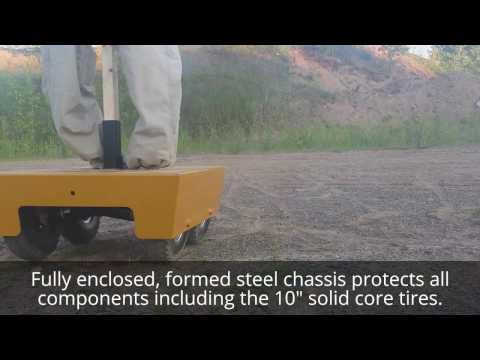 MotoShot™ Elite 360°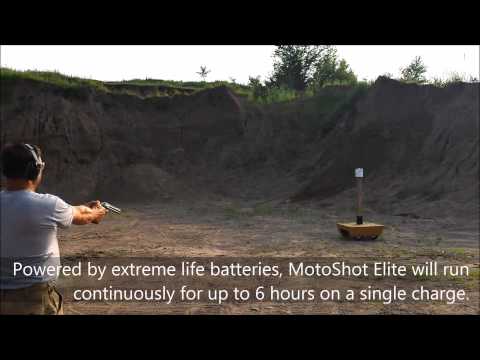 MotoShot™ Elite 360° with Remote